Fish Report- Kern River/Forks Overnight
---
[ Follow Ups ] [ Post Followup ] [ So Cal Flyfishing ] [ FAQ ]
---
Posted ByMatt on October 08, 2004 at 00:40:11:
I have been planning this trip since before Reese was born 4 months ago. It took a little convincing on my part to get Karen to go along with it. But after a chat with the doctor, and a little planning, we were set to take Reese on a short overnight backpacking trip to the Forks of the Kern. We have been there many times on day hikes, and did an overnight last August with a friend (see http://www.coylesweb.com/wwwboard/messages/37.html if you're interested in last year's trip), I figured this would be the perfect time and place to introduce our daughter to the "wilderness". Close enough to be safe, far enough and late enough in the year to be undisturbed. We left the cabin at about 6:00 AM, our biggest fear was the heat potential on the hike. Starting early and coming back late would negate that. Driving to the Forks trailhead in the emerging light itself was a fantastic experience. Shadows and light played across the landscape in an ancient dance. We had to stop and gawk at the Needles catching the new day's first light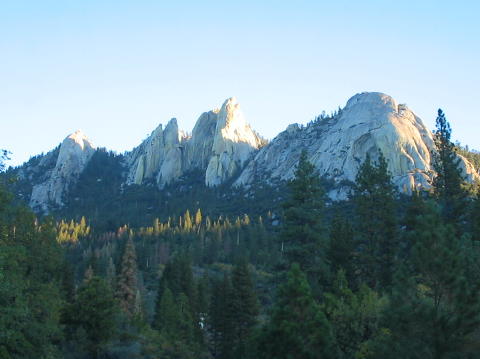 We travelled on to the trailhead bathed in the promise of a new Autumn day. It was cooler than I had expected, in the low 50's, and clear and crisp. I slipped Reese into the pack on my chest, and we donned our backpacks for the 2 mile hike in. Part of the deal was that I would have to "mule" the heaviest part of the gear-tent, food, filter, stove, etc. My total burden was pushing 60 lbs, of course, Reese was 16 of that. Reese loves traveling in the chest pack, she can watch the sky and the trees go by. The 55 minute hike was uneventfull, and we made our way to our campsite without meeting any people along the trail. I set up camp while Karen fed Reese, and as soon as that was done, we would hit the river together. We headed downstream about a half a mile, to a spot Karen had discovered last year. We had landed quite a few fish from this spot, and hoped we could duplicate that success this year. The river here was running a medium shade of emerald, completely clear and very cold at 49 degrees. With the optimism that always flows from those first few casts, we settled into our spot and fished. The fish did not see much of a reason to cooperate, however. Neither of us could manage even a single strike in the hour or so I was there. Feeling a little tired, I left Karen to continue as I headed back the campsite for a rest. Reese and I hit the tent and promptly fell asleep for about an hour. Karen returned, and reported that she had absolutely no luck at our original spot, she had tried a few different flies-Madame X, Royla Wulff, Adams, to no avail. Karen was now ready for a rest, so I handed off Reese and set out downriver. I knew of a couple of nice runs another 1/2 mile past where we had been, so I took off quickly for that area. I was fishing a likely pool, a long shallow riffle tumbled over a granite ledge, and created an eddy on the far side.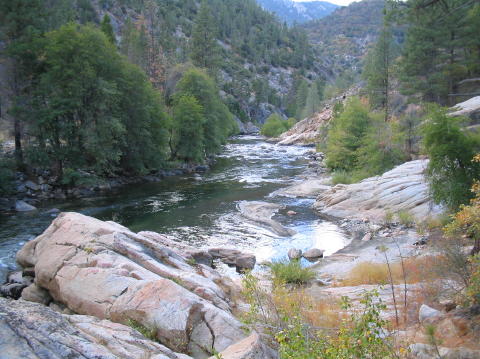 I fished the eddy on the near side first, and noticed that there were fish rising on the other side. I had tried a few flies myself to that point, but not until I switched to a cream Elk Hair Caddis did I have any action. I figured I'd have one shot at the fish across the fast water, and it would take a good cast with lots of slack in the line to allow my Caddis to sit in the eddy long enough to entice a strike. Well, to my surprise, I did just that, and the fish responded with a hearty take. I set the hook, and burrowed for the bottom. I felt him shake his head three or four times, just before the tipped parted. I had seen a flash as he hit the fly, and he looked to be a sizeable fish. Not gargantuan, but probably a hard fighting, wild Forks rainbow in the 15" range. I made several more (mostly) futile attempts at that fish, but came away with just on more hit, and no fish landed. I headed back to camp to let Karen have a crack at the river upstream, and noticed the thundercells building in to the north and east. I told her that the Caddis produced a few hits, and she seemed energized. She tied on a Caddis and headed upriver with new hope. A few minutes later, I got the call on the radio- "Fish On!"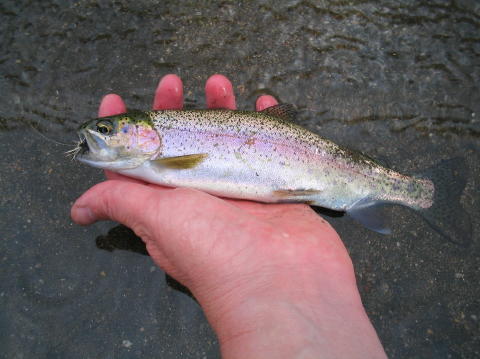 A nice fish in the 10" range. The the call again- "Fish On!" Then another 10 minutes later.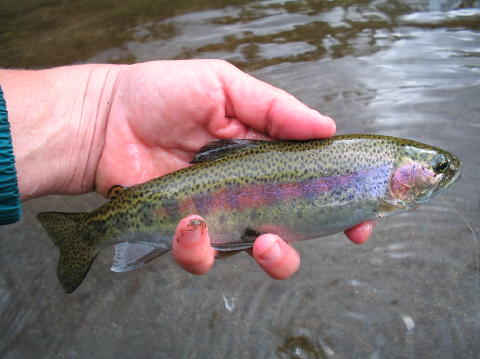 The latest being the largest at about 12". She came back about an hour later, and W headed off to the spot where she landed her fish. I ended up getting a few hits on the Caddis, and had another fish break off a Madame X, but again, none landed. Then the rain started. Not a deluge, but enough to make you notice. The raindrops hit the little one, and she did not like that one bit. The temperature had dropped a little, and the gray skies and intermittent showers made it seem even cooler. Karen took Reese back to camp, I stayed a little longer in pusuit of my elusive quarry. At dusk, cold and wet, I gave up for the day. We cooked our dinner and rehashed the days events. We would start tomorrow with the knowledge that we COULD catch fish, and that the Caddis or Madame X was probably the way to go. We slept restlessly, worried that Reese somehow would not be able to handle being away from home in a strange place. But I have learned things from her, and she has taught me that babys are very adaptable. We lounged about on Sunday, lazily cooking breakfast and napping in the tent. I was determined to at last get a fish, so I headed upriver for about a mile before making a cast. I tied on a Madame X under cloudless skies, hoping that the large offering would tempt the wild rainbows that day. I had several hits on the X, and finaly did land that fish-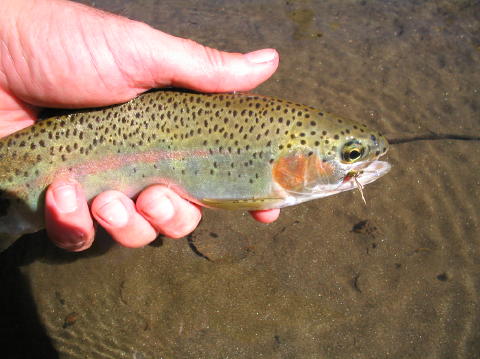 About 12 inches, and very healthy. I headed back to camp to give Karen one more crack at the river, and she headed back th the spot where she had landed the three from Saturday. She promptly landed another, again about 12". I was resting up at camp, and when Karen returned, we set about the task of packing up. We left the campsite at 3:45 in the afternoon, and were back at the trailhead at 5:05, a fairly strenuous hour and 20 minute hike.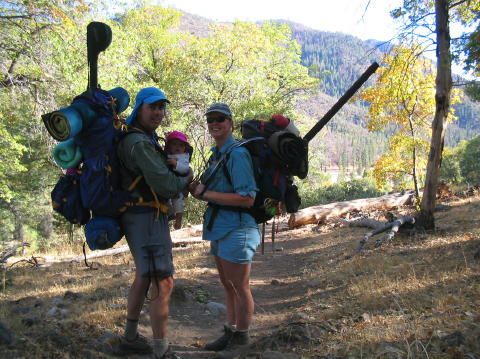 In summary, the weather was spectacular, Saturday was in the upper 70's, with rainshowers and thunder between about 3:30 and 6:30, clearing to crystal nightime skies. Low temp Sunday morning was 44 degrees, cooler than I had expected. Sunday was a little cooler, with a few puffy clouds. Fishing was not al that great, but given more uninterrupted fishing time, I'm sure we'd have done better. I talked with Guy at the shop in Kernville on Monday, and he asked why I thought it was so slow. Without thinking, I said "I don't really know." But as I think more about it, this trip was not really ONLY about the fishing- It was about getting to know each other, spending time as a family unit. I know that Reese will not "remember" this trip in the conscious sense, but it is our hope that the early exposure to the outdoors will instill in her a healthy respect for Nature and Life, as well as provide her with the "experience" we all seem to be after. Matt
PS-Below is a link to the video from the trip- again it's about 2 minutes long, and 8 megs, so dial ups beware.


---
---