Fish Report-Durwood Creek/Kern River
---
[ Follow Ups ] [ Post Followup ] [ So Cal Flyfishing ] [ FAQ ]
---
Posted ByMatt on April 26, 2004 at 01:18:14:
We stopped in to talk to Guy and Racquel at the flyshop and to pick up a few things before heading out. A nicer couple you won't find. Karen and Racquel have quite a bit in common. For the general trout opener, I decided I wanted to fish the confluence of Durwood Creek and the Kern river. This area is upstream of the Johnsondale bridge. I would go in by mountain bike, off of the Rincon Trail. Karen would fish the Kern and come back and pick me up at the trailhead later in the evening. Karen dropped me off at the trailhead (up Sherman Pass Rd about 1.5 miles) at 1 PM. I had planned on the approximately 7 mile ride to take 1.5 hrs or less, based on my maps. However, I had not planned on the trail being so bike UN-friendly. It took me about 45 minutes to get to the first saddle, 1 mile from the trailhead

This is looking towards the northwest, the Needles in the distance. It took so long because the trail was covered in loose, deep sand. It was ride a few yards, walk a few yards. From the first saddle, the downhill went pretty quickly, followed by another uphill- ride a little, walk/push a little. Repeat. You get the idea. When I approached the spur trail that descends to the confluence after about an hour and a half, the trail was nowhere to be found. I looked around a little, but I did not have a copy of the map with me. Time was going to be an issue, so i decided to follow the trail to Durwood Creek, and fish there until 4 PM, leaving myself 2 1/2 hours to get back out.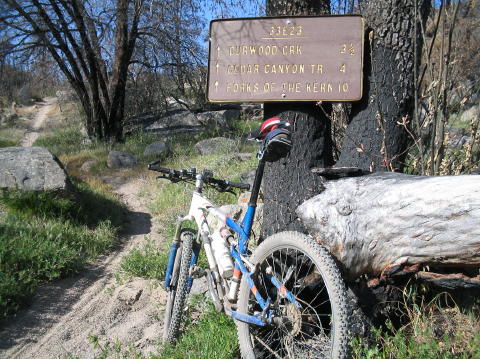 I was able to get to the creek, after a little over 2 hours of pretty brutal riding/pushing. The sand and deep gravel made travel by bike not the best choice. 5.7 miles in 2 hours, I probably could have done (nearly) the same just on foot. Being alone, and having a 15-20 pound pack on my back made me extremely cautious.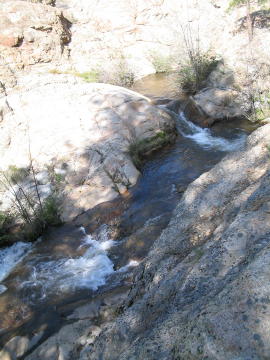 At last! I had images of native rainbows dancing in my head, fish that had never seen an artificial fly. The creek itself was in good shape, a little off color, but still very clear. Lots of pools amd small waterfalls, at the bottom of a small gorge. It was a little after 3 PM, and I would have less than an hour to explore. Casting room was limited, but I did not have trouble flipping flies into the pools and runs. I am sad to say, however that no fish took my limited offerings- Adams, Elk Hair Caddis, Copper John, and Prince. It was time to go, and I knew I was in for a tough trek out. It actually took a little less time to get out, it seemed as if there was more downhill on the way back than the way in. Karen met me at the trailhead, and filled me in on her day. She fished near where SAlmon Creek enters the Kern, and her experience mimicked mine. Adams, Parachute Adams, Royal Wullf, (all fished dry and wet)Copper John, Prince nymph. She did have a couple of hits on the Copper John, but was unable to connect. The river looked better, but there are still quite a few mud bars on the banks, still waiting to be washed away. I'm starting to think it may be a couple more years till it's back to "normal". Good luck, Matt





---
---