Fish Report/Lake Isabella
---
[ Follow Ups ] [ Post Followup ] [ So Cal Flyfishing ] [ FAQ ]
---
Posted ByMatt on April 12, 2004 at 15:40:02:
Karen and I decided to take out th eboat and try to get in on the crappie bite that had been so hot for the last couple of weeks. We fished Friday and Saturday and the weather couldn't have been better. Relatively cool in the morning, warming to the upper 70's/low 80's by early afternoon. The wind never did pick up, we fished from about 8 AM until about 1:30 each day. Afternoon thunderheads built in on Friday and Saturday, but didn't see any actual rain. Sunday was quite clear, only some high thin clouds. We fished the area immediately north of French Gulch, and were disappointed that the first few casts did not produce. We worked our way along the shoreline, fishing the rocky areas of the coves we came across. We did manage to start landing fish, but only after we switched from mini jigs to small gold bladed spinners (Panther Martin). Most of the fish were small, this being the largest, maybe a half pound.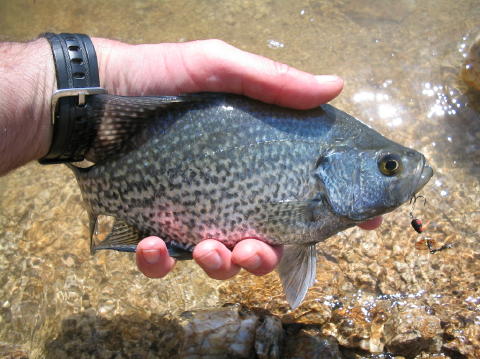 Not a lot of people fishing this side of the lake, and we did not see a lot of fish being landed. As we continued, we began landing largemouth b@ss. A lot of them. Dozens of them. The problem was that they were about 6" long, a few larger, a few that were barely larger than the Thomas Bouyant that we were using to catch them with. You gotta admire the attitude of a 3.5" fish attacking a 2" lure. This was the largest of them, maybe 10".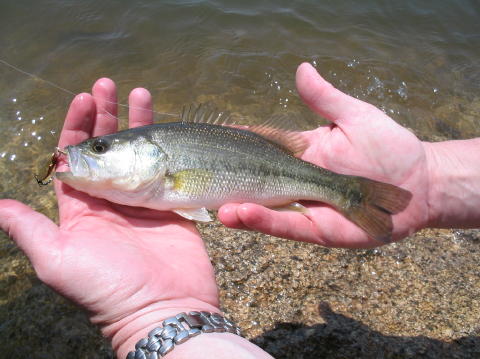 We kept searching for their bigger brothers, but they were not in the same areas, or not interested in what we had to offer. Over the two days, we caught maybe 20 crappie, all smaller than the one pictured, and about 50-60 largemouths, again all smaller than the one pictured. We did land one trout, a nice fish at about 13", in the corner of the main dam, by the outlet structure, and Karen landed a 14" squawfish as well. Lots of (small) fish and great weather, but I can't help but be a little disappointed that we seemingly missed out on the hot bite. We decided that we will be fishing the derby this weekend, taking out the boat and do some trolling for dollars. Hopefully, we'll be able to hit the upper river as well, and I'll be able to post a report on that. Matt



---
---