Forks Overnight
---
[ Follow Ups ] [ Post Followup ] [ So Cal Flyfishing ] [ FAQ ]
---
Posted ByMatt on August 03, 2003 at 01:52:37:
We had planned a overnight to the forks for Sunday/Monday, July 27/28, and weren't going to let a little thunderstorm stop us. My friend Gary accompanied Karen and me. We hit the trail at about 10:00 AM Sunday, it was HOT and HUMID, clear as a bell. Took us about an hour to get to the river, and immediately we cooled off in the Little Kern. We set about to find a campsite, and Gary found a nice spot, flat and shaded, just below the spot where the 2 rivers meet. This is looking back (southwest) towards The Needles.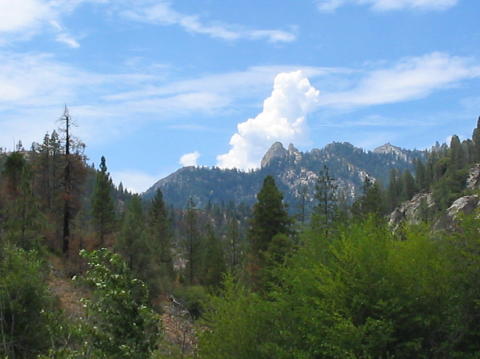 Clouds billowing up all day, with the eastern ridges lookin like they were getting rain, we stayed dry. Started to fish our way upstream, first fish landed right at the spot where the kayakers/rafters launch. He took a Grey Hackle Peack0ck that had sunk. I've never had such a wild fish on the line, he jumped 4 times, and each time he launched himself about 3 feet into the air, he put on quite a show. We continued on upstream, and I found a nice rapid dumping into a pool with a nice, long runout. I was licking my chops, thinking of all the fish we would get out of this section. Well, Gary fished it with a Mosquito and got no takers. I tied on a BH Prince, and in two casts, got this guy in the seam between the main current and the eddy.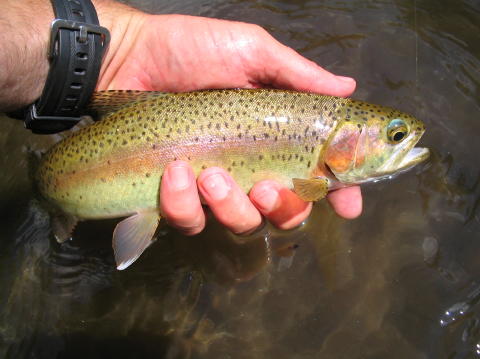 These fish were quite powerfull, and bigger than I had expected, this one being about 15". He took off on a run that peeled about 10 yards off the reel. Absoulutely beautiful fish, the coloration is just spectacutal. I guess that's why they're called Rainbows. We continued on upstream, I kept on the BH Prince, Karen with the Grey HAckle Peac0ck, and Gary switched to a Madame X. I had a couple of fish hooked, but managed to loose them. Karen got a few hits, but couldn't hook any. We headed back to camp to get some dinner, Karen wanted to stop at the spot I had landed the last fish. She tied on a BH Hare's Ear, and began to work the water. A few casts later, shaking the rod tip, she got the hit. Another nice fish.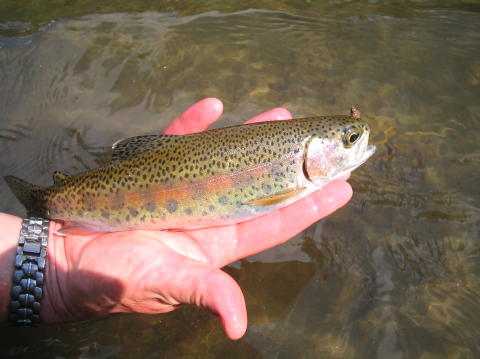 About 13-14" and again quite feisty. Took off upstream, then down, and finally she was able to bring him in. A couple of photos, and back into the river. After dinner we decided to head downstream and see what was available. We walked along the trail about a half mile, then headed towards the river. Gary found a nice hole, below a smallish rapid, flowing into a nice runout, similar to the stretch we fished earlier. Gary stuck with a Mosquito, and almost immediately hooked into this one.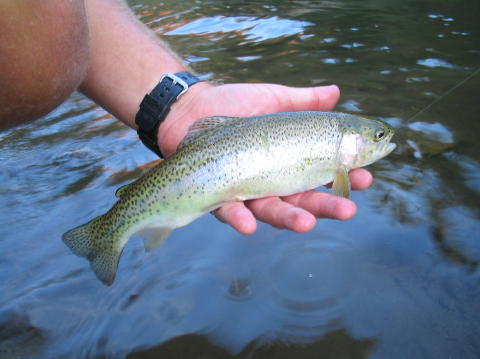 About 15", and again very feisty. We all then spread out along the run, I hooked one on a BH Prince, but couldn't land it, Karen moved downstream to another similar spot, and was able to get a couple more. Gary continued to get fish, and we alternated the only spot between the Alders that we could get a good cast off. I had tied on a Royal Wulff, and that seemed to be candy to the fish in the pool. I landed 4 in about 25 minutes, Gary got 3 in the same time period, none less than 12", up to almost 16". Karen had a little less luck, she got a couple in the 14" range. Impending darkness sent us back to camp.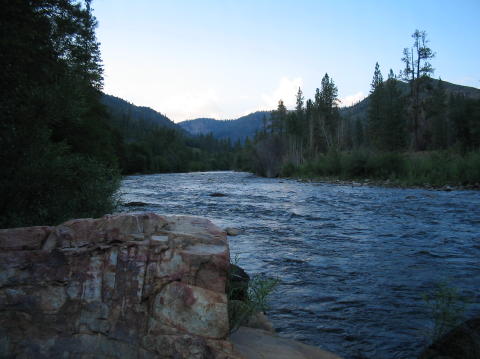 This was our view just above the last spot of the day, looking upstream (northwest).
Monday morning broke with high puffy clouds, still hot, it got as low as 68 overnight, we were expecting over 100 for the day. The plan was to fish early, eat, fish util about 2:00, and then make the hike out. We all headed back down to the spot we had fished so succesfully the previous night. Fished for about an hour there, and got no hits at all. Gary and I decided to head downstream, Karen would go back to camp. We found several areas that mimicked the areas that we had caught fish the previous evening, but we could coax no fish to our flies. I was able to land one fish for the day, on a Black Widow (thanks BT Jim!), a decent fish at about 14". After breakfast, we all headed upstream again, but the fish were not cooperating, we had no hits at all. We decided to break camp at about1:00, and head home at about 2:00. We were hoping for some cloud cover to build in to keep the heat down. We got our stuff together, and at about 2:15, we hit the trail. About 2 minutes later, you guessed it, the darkening sky opened up and let loose a downpour, complete with thunder and lightning. We pulled over under a stand of trees to wait it out and discuss our options. Fotrunately, we had only made it a couple hundred yards, and decided to wait. After 20 minutes or so, the rain lessend to a point where we could continue. Up the trail we went, showers following us up. It was still hot, so the small showers were actually a blessing. We go to the truck after about an hour, and loaded up for the ride back. The rain intensified, and seemed to chase us down the canyon, only lessening as we neared Kernville. The river was starting to get dirty rapidly, and at the Edison pickup dam, the culvert under the road was backing up with black water that was rushing down the canyon on the east. Below the dam was a black streak covering half the river, on its way downstream. Overall, an excellent trip, I highly recommend fishing the Forks. No one fly worked consistently, but we seemed to get a hit or two at least on each pattern we tried, and catching these wild fish was certainly well worth the effort. Matt



---
---