Kern River/"Private Creek"
---
[ Follow Ups ] [ Post Followup ] [ So Cal Flyfishing ] [ FAQ ]
---
Posted ByMatt on July 21, 2003 at 13:32:08:
We woke up on Saturday to the sounds of thunder and rain. We waited until about 2:00 to head out. Fished above Ant canyon. Water was clear and very comfortable to wade. The air temperature was in the high 80's, and extremely humid. Rain fell intermittently, with the occasional downpour. I started with a Madame X with a Hare's Ear dropper, and Karen with a Grey Hackle Peac0ck. Karen had a fish on right away, a 12" stocker. I had a couple of hits on the Madame X, but did not land them. I wasn't really getting much action, so I switched to an Adams. No takers on that, then to a Royal Wulff, and did manage one, about 10". Kept moving upstream, and changed flies occasionally, but nothing seemed to really work. Karen got a couple more, between 10-12". The show put on by Mother Nature far outshone the fishing. Thunder, lightning, rain, heavy rain, wind, about the only thing missing was hail. I don't often get to see this kind of weather, we thoroughly enjoyed it. We decided to try above the Johnsondale Bridge. Started to hike upriver at about 5:30, lots of people swimming in the river near the bridge. After walking about 45 minutes, we came across 2 guys heading downriver. They said, "we have some bad news, there is some bad water heading down here". Sure enough, about 5 minutes later, the water started to get darker. We started to fish, but within another 10 minutes, the water had turned to chocolate. I was standing in water that was about a foot deep, and could not see my feet. We decided to pack it up for the evening. Drove downriver, and noticed that there were areas of extremely muddy water. Roads End and just below the lookout for Salmon Creek falls were especially bad. Saw some smoke on the eastern wall, and as we drove down, saw that there was a fire on the canyon wall, behind the Golden Trout Lodge. It wasn't in position to endanger anything, unless it got out of control and burned uphill towards the Horse Meadow area, but it looked as if it was already burning itself out.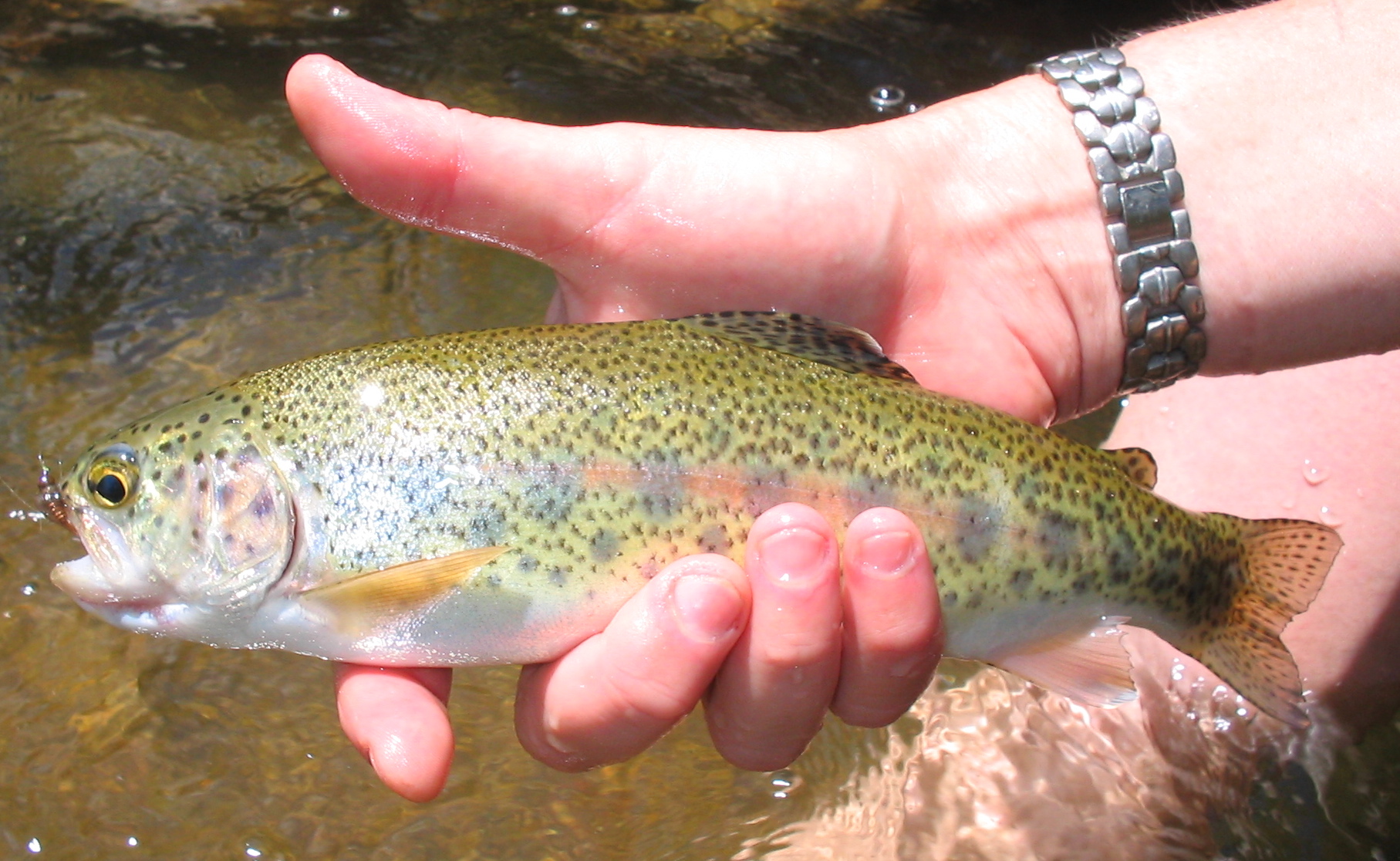 We decided to hit Karen's "private creek" on Sunday. The weather was different from the day before, no clouds, a bit cooler, but still warm and humid. We started out at about 9:30 AM. Hiked our way downstream, and on the trail, came across something we've never seen before- ladybugs. I'm not talking about one or two, or even a couple hundred, but thousands, probably hundreds of thousands, maybe even into the millions. They were everywhere-on the trail, on rocks, covering downed trees, on the brush and vines, flying about. It was an incredible sight, ladybugs turning the forest red. I wondered at the time, if I had a ladybug fly pattern, would the trout go after it? We fished for about an hour and a half, the water was still quite off-color. Not as bad as the Kern the day before, but enough to make the visibility in the larger pools less than a couple of feet. Normally, we get almost non stop action here for smallish fish (4-8"), but the fishing was quite slow. Tried a lot of different flies and techniques- dries, nymphs, streamers, attractors, etc. We landed a couple of fish, Karen's (pictured) was the nicest at about 12", very light olive, light rainbow coloring. Overall a nice weekend, fishing wasn't that great, but the weather was awesome, something you don't get to experience that often here in California. Matt
---
---