Fish/Kern River/Weather Report
---
[ Follow Ups ] [ Post Followup ] [ So Cal Flyfishing ] [ FAQ ]
---
Posted ByMatt on December 29, 2003 at 23:58:26:
Headed up to the river on the evening of the 25th. Lots of snow over the Grapevine, the canyon was closed due to rockslides, so we took 155 up from Delano through Glennville. Snow was falling 6 miles west of Glennville, and only got worse as we headed up towards Greenhorn summit, above Wofford Heights. Nearly a foot of new snow on Greenhorn, Shirley Meadows reported 3 feet of new on the 25th and 26th. Had some "home improvement" issues to take care of on the 26th, but it snowed all day, so not too bad. We decided to try the fishing on the 27th, beautiful blue skies and COLD. Mid to lower 40's at the river. Stopped at Chemise Flat, water temp was 38 degrees, and I could not see the tip of my thermometer in 1" of water. Ice was building up in the eddies along the shore. We decided fishing was out, so we took a drive upriver to further check out the conditions. Snow on the riverbanks from Fairview on up. Here is a shot of the Edison pickup dam, and yes, that is ICE all across the face of the dam and back to the bouys. Also note the snow on the mountans, all the way down to the river in the background.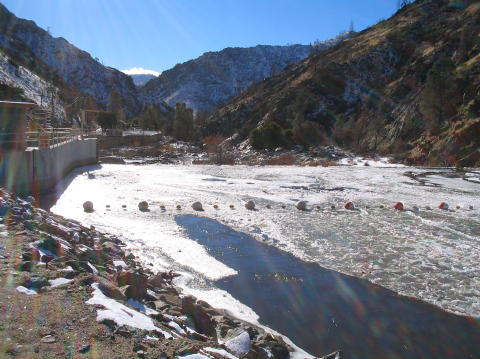 We stopped at Limestone, ice all along the banks, and this on the opposite side of the road, where the water usually seeps out of the rocks.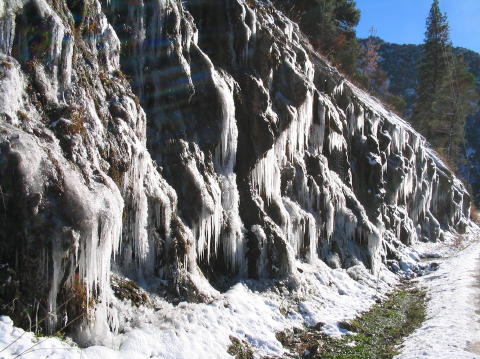 We went up further, and found that the old (foot traffic) Johnsondale bridge had 3" of snow on it. Air temp at the bridge was 32 degrees at 2:15 pm.This shot is looking upstream from the bridge.


Finally, we decided to get a look at the whole valley, so up we went on Sherman Pass Rd, up to the snowmobile trailhead at about 7700 ft.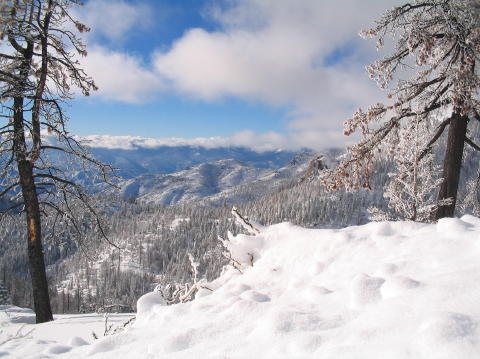 This is looking out over the Kern River Valley from about 7700 ft, looking to the west-northwest, towards the Western Divide, roughly due east of the Limestone campground, over 3 ft of new snow at this level. Spectacular views, very cold, and not much fishing. The river seemed unfishable, beyond murky to opaque, so we didn't even bother. The drive up the canyon and up into the mountains was well worth it though. Matt


---
---